Confidence & Calculated Risks: Why Taking Action Can Work with the Right Approach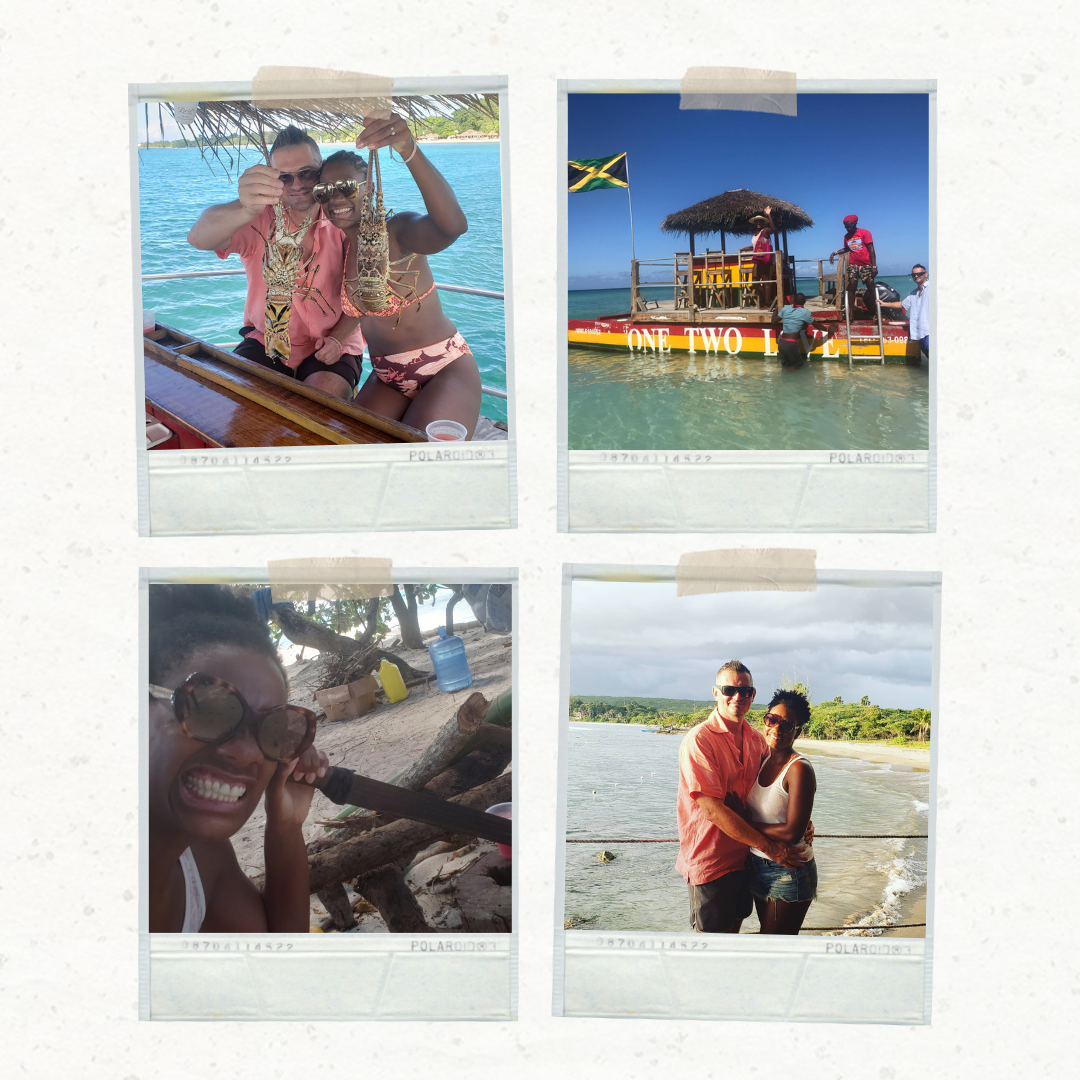 Confidence & Calculated Risks
State of Affairs
Assessing the Risks
Laying Out the Plans
The Result
After 7 months into Covid restrictions, my husband (G) and I were successfully social distancing and wearing masks. But things were starting to wear on us (as with many people). Since the Covid lockdowns, our state of affairs was the following: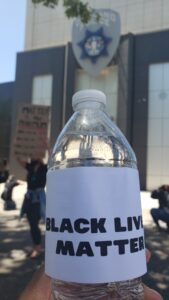 Decreased Physical Safety
In Oakland, we're a protest city because most people that live here believe that all humans deserve rights. But during the lockdowns, everyone started consuming social media even more. And certain social media platforms allowed hateful groups to spread their message and grow. During the George Floyd protests, these fake militia/cosplay terrorists traveled to liberal protest cities and killed cops. What's to stop them from driving here and killing black & brown people walking down the street at random too?
Because of that Oakland cop killing, the police department became heavily fortified. As police drew more efforts to protect their office, it seemed the streets were left up to the citizens to protect. This gave the town a feeling of lawlessness.
In Oakland, there was also an increasing number of homeless people. When walking down the street, I never knew which encounter could be harmless interaction into an assault (side note: I obviously don't think all homeless people are aggressive). So, I didn't feel safe going anywhere without my husband. Walking was out of the question, so I would bike places to pick up orders because parking wasn't safe either. Being outside was becoming dangerous.
I know at this point you're thinking, "Well, just get things delivered." Sounds like a solution, but with so many businesses negatively affected by Covid restrictions and people were running out of money, theft was increasing. People were stealing whatever they could, including quarters out of our laundry room and packages in our apartment lobby. Unfortunately, our packages are left in plain sight (there's an ongoing, heated debate about this between my husband and the building manager), so twice people have just broken the window and stolen everyone's packages. This did not make us feel safe inside either.
Diminished Physical Health
In Northern California, not many people have gym memberships because the outdoors is our gym. When Covid first hit, a lot of people were still able to exercise outside. However, my main form of exercise in the winter, snowboarding, was off-limits since the resort had to close per California state law.
Lucky enough, there was one winter sport still open in Tahoe, and that was cross-country skiing. Even though G or I have never tried the sport before, my action-oriented husband bought us 2 sets of cross-country skis and 2 season passes for Tahoe XC.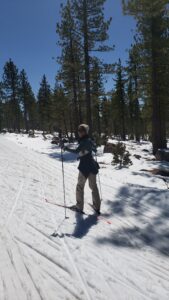 Also, because I was furloughed and my mom felt bad for me, I was on her payroll. She gave me some "fun money" to use during my forced mini-retirement. So I bought a bike!
However, once Fall came, so did the California wildfires. With it being so smoky, there were no bike rides, no hiking. I couldn't even do my favorite activity of walking up to the Oakland hills to see where the rich people live, then loiter for too long in their front yard and pretend I live there with a view of the entire Bay Area from my dining room.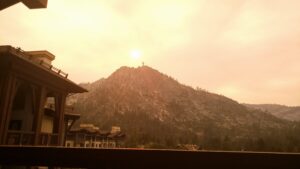 Since March, both G & I got used to staying at home since there was a stay-at-home order. But now, the only thing left to do was to stay inside with the windows closed. For a self-proclaimed active Californian, it was a nightmare come true.
The combination of Covid restrictions and lack of an appropriate national response forced a few of the restaurants we loved out of business. I do think that local businesses are the fabric of communities, so it was hard when they started shutting down. I actually cried when one of our favorite restaurants decided to close. G & I had so many memories there. It was the first place we spent NYE when we moved to Oakland. We didn't even have the money for it, so I put it on my credit card (I called ahead to confirm they took American Express). Over time, we became friends with the servers and bartenders and even the owners. We met people in various places around the Bay that also loved this place. We knew the owners and their kids and would spend time together in Tahoe. It was so much more than a restaurant. And gone just like that.
The other part of feeling like a community is spending time with people in your neighborhood. And the other obvious issue of the global pandemic is not being able to hang around friends and family. I don't want to sound like all woe is me. This was the same thing that everyone painfully experienced. So I won't even go into details.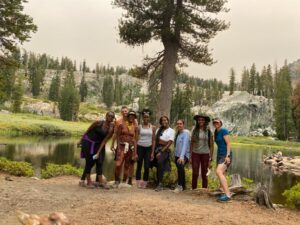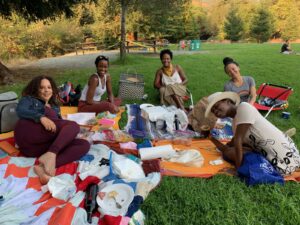 *Side note: We were actually lucky to form a neighborhood bubble that met outside almost every Sunday. It was the only thing that kept a lot of us sane.
Mental Health Downward Spiral
Everything from the people who don't believe anyone should protest because all humans don't yet have rights (this includes the "why they just can't be peaceful" group) to the non-stop media coverage of a 2-year presidential election cycle was coming to a close, plus everything I've already mentioned – it was mentally exhausting. And to constantly be around (via social media) people who don't understand, acknowledge, or accept what America really is – it was just wearing me out. Granted, watching the news and looking at social media was my choice – but was there anyone during the lockdowns that wasn't doing this more than usual?
This was an unprecedented time, and it was time to think of unprecedented, yet well-calculated, measures.
Decision Point: What do We Want?
How to maneuver through this Fall and Winter without G & I losing our minds? I only see 3 options, which I ended up lumping into 2 different categories:
Calculated Risk #1: Wait it out in Oakland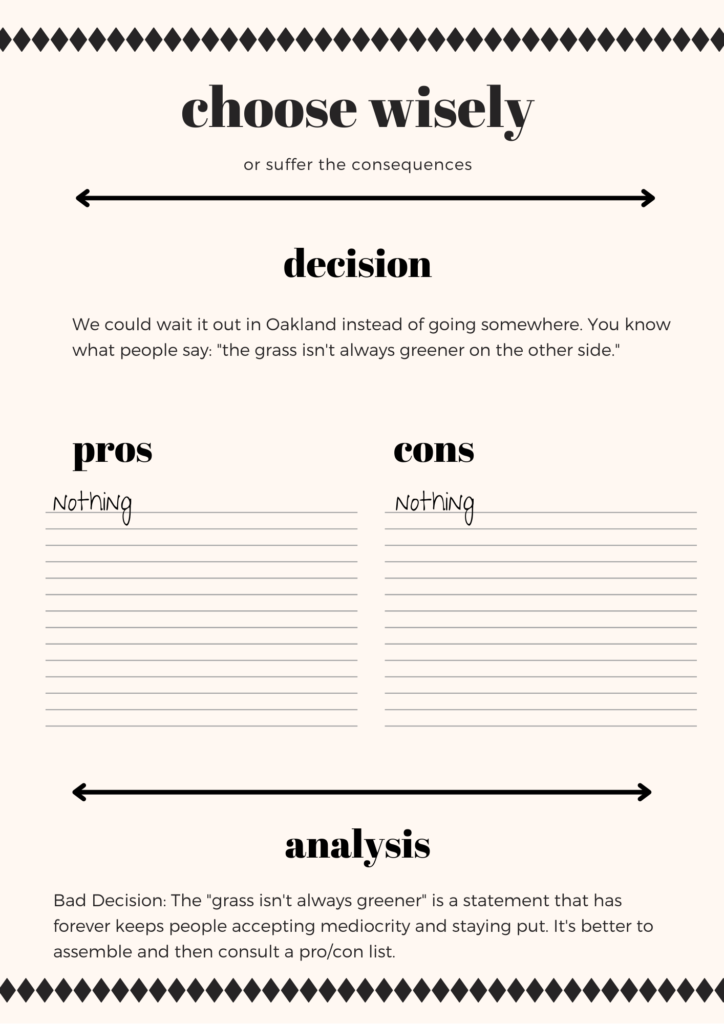 Calculated Risk #2: Wait it out in Lake Tahoe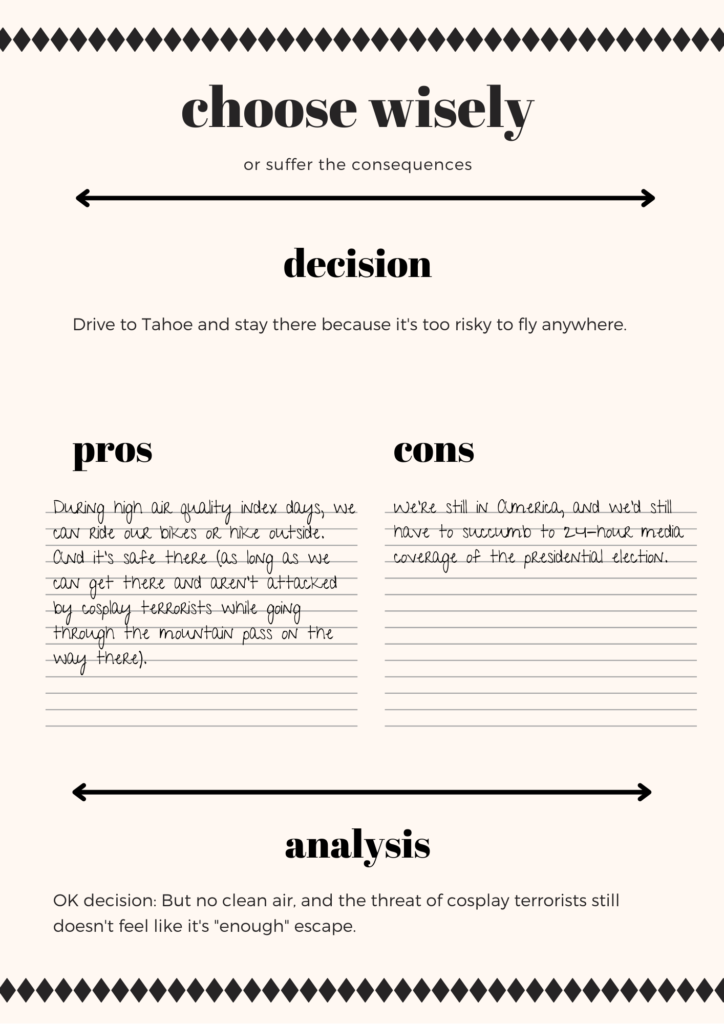 Calculated Risk #3: Leave the Country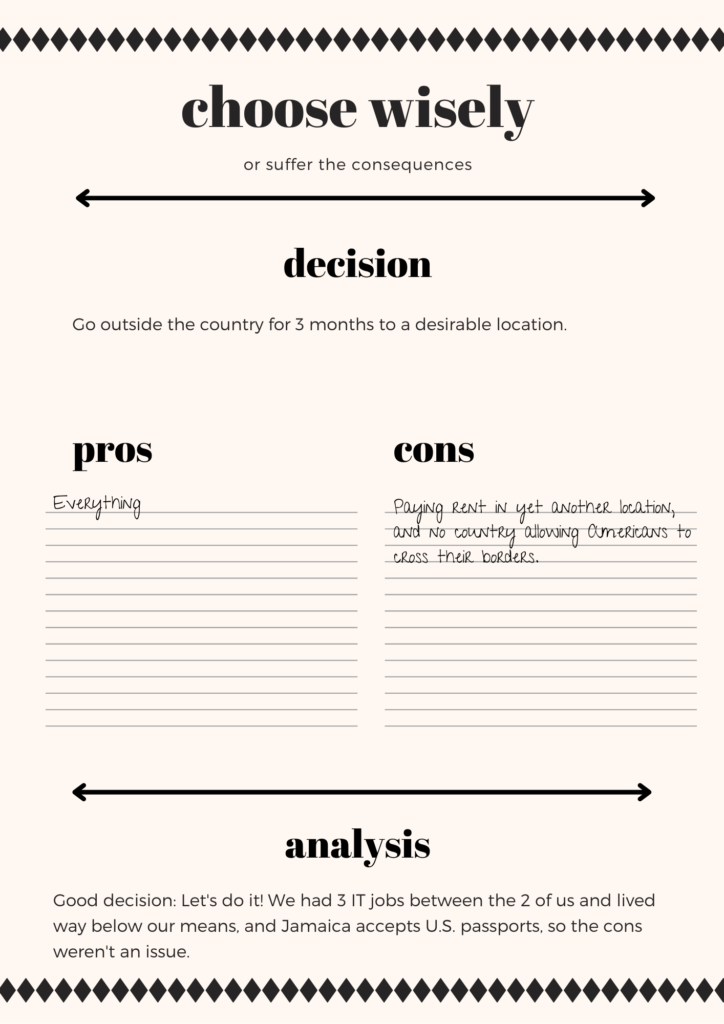 Assessing the Risks
There are benefits to taking calculated risks. And I don't have to jump with 2 feet in – I'm a fan of doing things in iterations ever since I joined the tech world. You test something at a smaller level, retrospective, and then make adjustments to try again.
But to try again, you have to take small, calculated risks. That way, if you fail, you can still quickly pick up and start again. It's the difference between trying something and losing the farm or trying something and losing 1 chicken on the farm.
I've always wanted to live in another country, so to live somewhere for 3 months would be a good test. There were some things to consider:
Should we do an Expat Experiment?
G & I feel comfortable in many different cities and countries, so we were already planning to work remotely and be citizens of the world (explicitly making money in the US and spending it in other places where we enjoy being) long-term. But covid and forced remote work expedited our plans. We finally had a chance to take a calculated risk of being ex-pats.
At that point, every week of the last 3 years, I was traveling to a client site for work – LA, NYC, even Australia…and Indianapolis, IN. And now, because of Covid, I was traveling nowhere for the foreseeable future. Although, working from home and not on-site opened up a possibility of traveling to somewhere that I actually want to be, not just to an office building in a cool city. Or an office building in Indianapolis.
Are We Risking Our Health?
Fortunately, neither of us were in the high-risk group, so we didn't have to fear losing our life if we caught Covid while traveling or living in Jamaica. During that time, we controlled what we could, which was our immunity and the number of physical interactions with others. Living in the Bay Area away from our families and our remote work jobs also meant minimal exposure to older people that could be at risk. This meant that we weren't putting ourselves or others at risk by going to and then coming back from another country.
During Covid, it wasn't so easy to just pick up and go somewhere. G& I had to find a country that:
Accepts U.S. passports.

Fixes #1-4 on the "State of Affairs" list.

Safe passage without covid or racism threatening my life.
We closely watched the interactive "who is letting Americans visit" map provided by statistical map experts NY Times. And the Caribbean seemed to be the most accepting. And especially Jamaica. We were married there and visited at least once a year.
Since Jamaica accepts my passport, then Jamaica wins!
Should We Extend Our Original Vacation Plans?
We were already planning on a Jamaican vacation for December. Since we could work remotely now, all we would need was to:
Stay at a

trusted

hotel with good wifi

Get a room on the beach

Not lose my laptop
Yes, we should extend our vacation!
Can we afford it? Living in the expensive Bay Area is so expensive that when I travel to different places, I always spend less money than I would while at home (sad!). The good news is that my husband and I have good salaries both work in tech. Plus, we live way below our means (even in the Bay Area), so a 3-month trip to a non-Western country is still doable without taking on debt.
Also, when traveling to a non-Western country, we really don't spend money on unnecessary stuff. For example, Amazon Prime is not easily available, so that saves about $2000 right there.
What about our residences back home? We asked a trusted neighbor/friend in Oakland to start our car and water the houseplants periodically for our apartment. And for our condo in Tahoe, it's run like a hotel, so they take care of everything. To deal with our mail, I opened a P.O. Box then had all mail forwarded there. And since we live in California, wine club shipments: I contacted the wineries individually and had them hold my shipment until January when we'd be back.
After calculating all of the risks, it became clearer. I played out both scenarios in my head:
If G & I made the "safe" decision and stayed in Oakland, we would eventually form a cocaine habit. We had lots of extra money and time, not able to go outside, and were depressed. Cocaine is the only logical next step.

If we went to Jamaica, it would be a low-risk way to try the lifestyle we always wanted. And also, make the best decision of our lives (at least until this point).
It was now or never to try out our life plan of traveling more.
The original plan was to go November – New Years', but after a couple of weeks being inside with the windows closed, G made a game-time decision in September – we would leave in October and stay for 3 months. He bought plane tickets, and I made the hotel reservations.
In the remaining 3 weeks, I started getting all of our affairs in order. I had to squeeze in doctor's appointments and organize all those little details we listed to mitigate risks.
At first, I thought G acted in haste by booking an extra month so quickly, but let me tell you – October could not come fast enough. Most things had gotten worse on our "state of affairs" list. So when I stepped on that flight out to Jamaica, I almost felt like a refugee fleeing her country.
G & I went to Jamaica for 3 months, and while there, all 4 "state of affairs" were no longer immediate issues. We stayed directly on the beach at the Charela Inn – the place we were married. We could exercise by swimming or windsurfing daily. We got to interact with people because all activities are outside, plus most people there are healthy and Covid numbers remained low. My mental health has never been better – watching sunrise and sunset every day is enough to love life. Not to mention the sound of the ocean is so peaceful. And we were able to successfully work while being here – both of us were given leadership positions a couple months after leaving Jamaica.
And the biggest benefit? Since we were at a hotel, we didn't have to cook, clean, do our own laundry, look out the window at another apartment, etc. I felt like royalty! We were even able to pay cash for everything, but I had so much fun that I would've put it on a credit card and worried later. One thing covid taught me is to YOLO – who cares about finances during the end-of-times?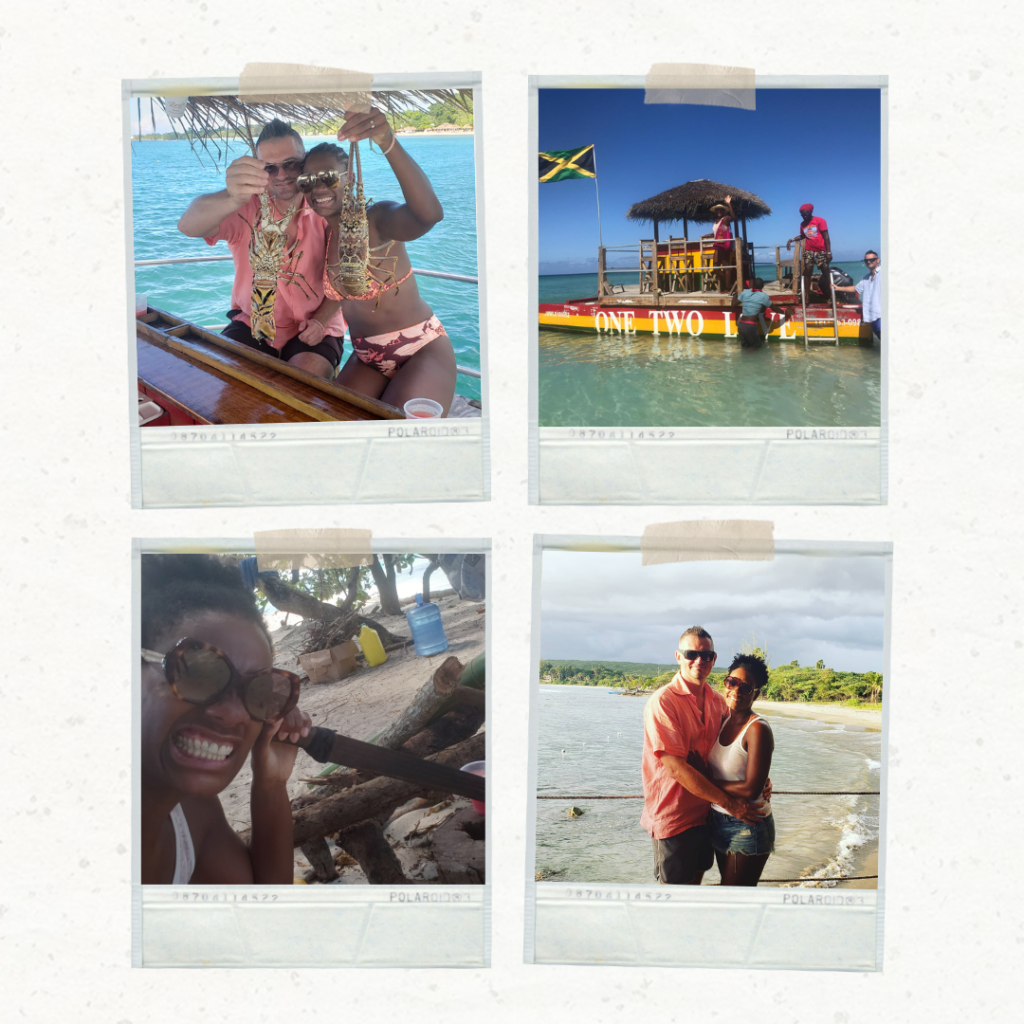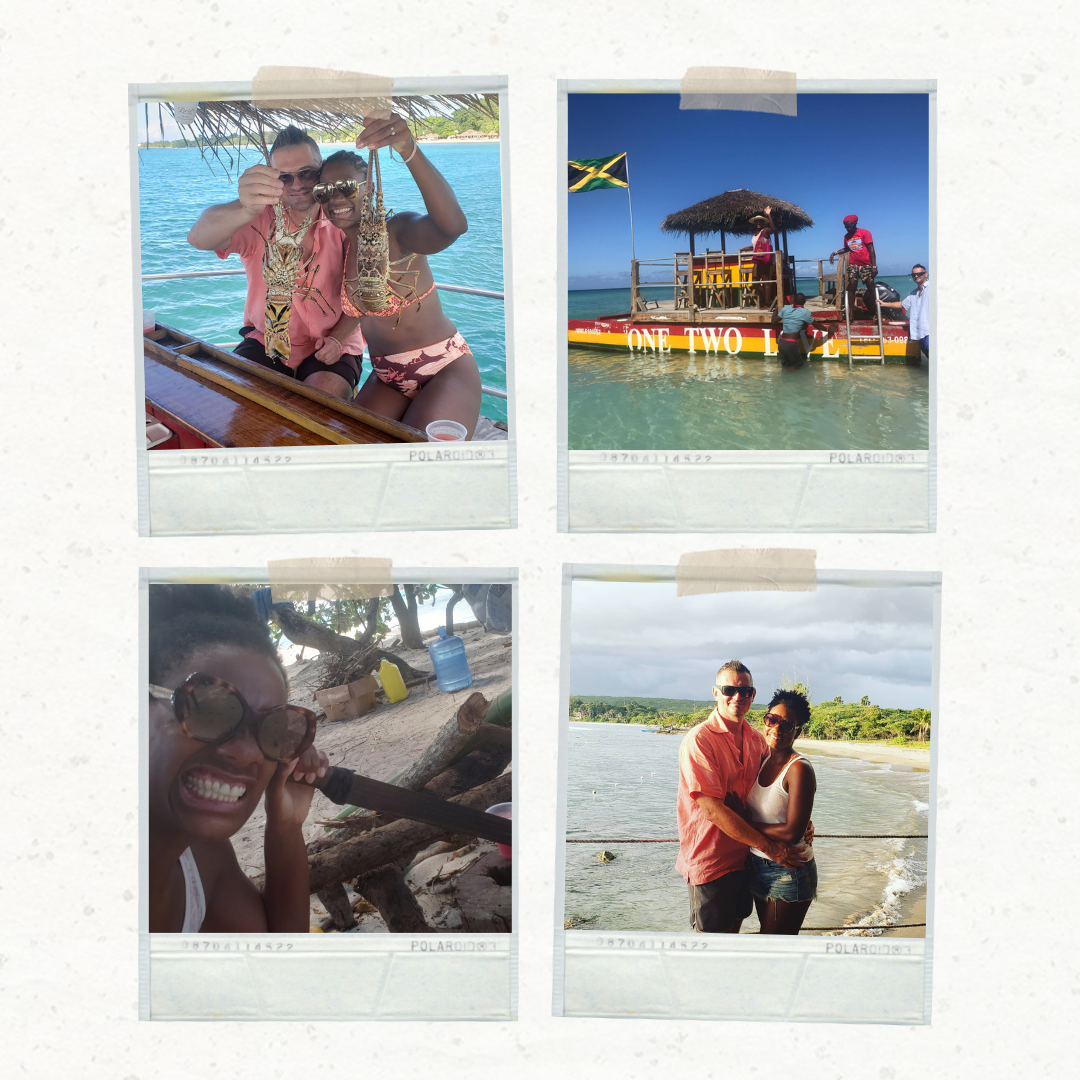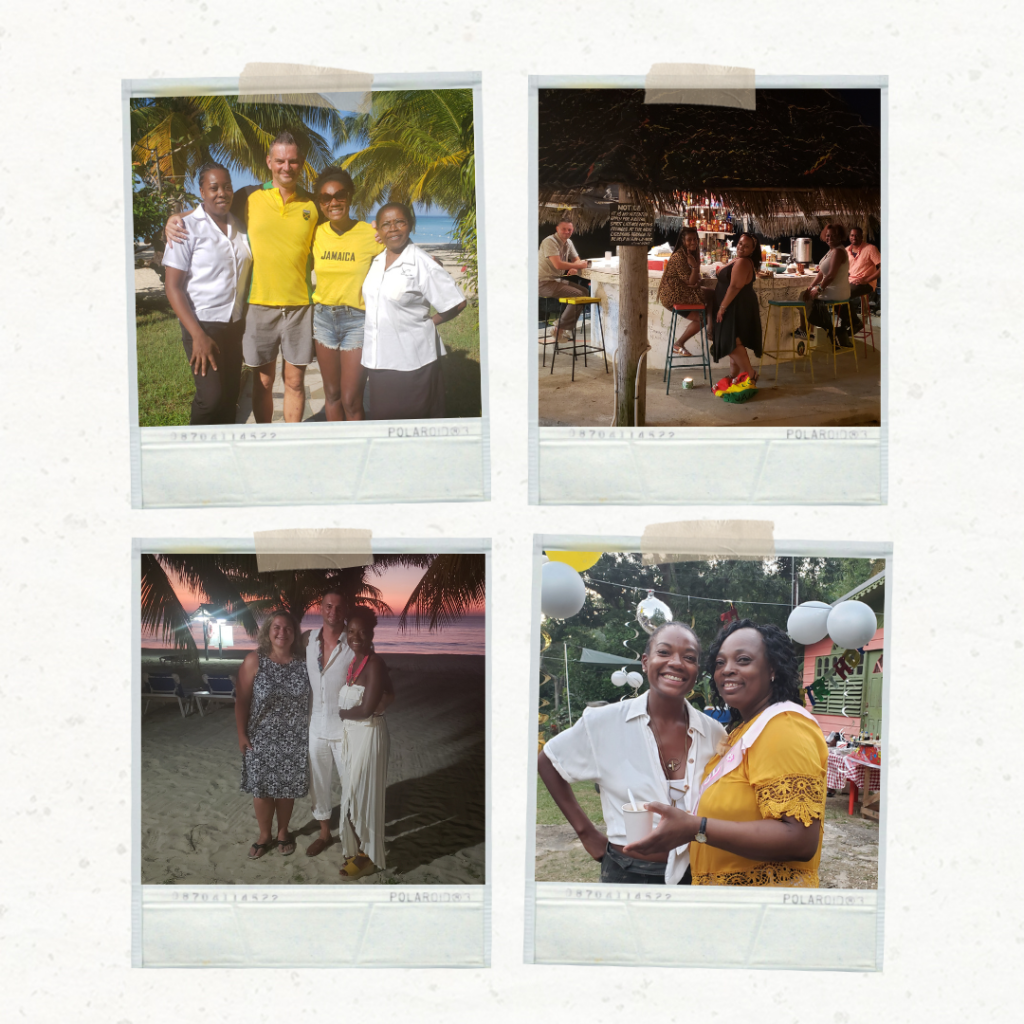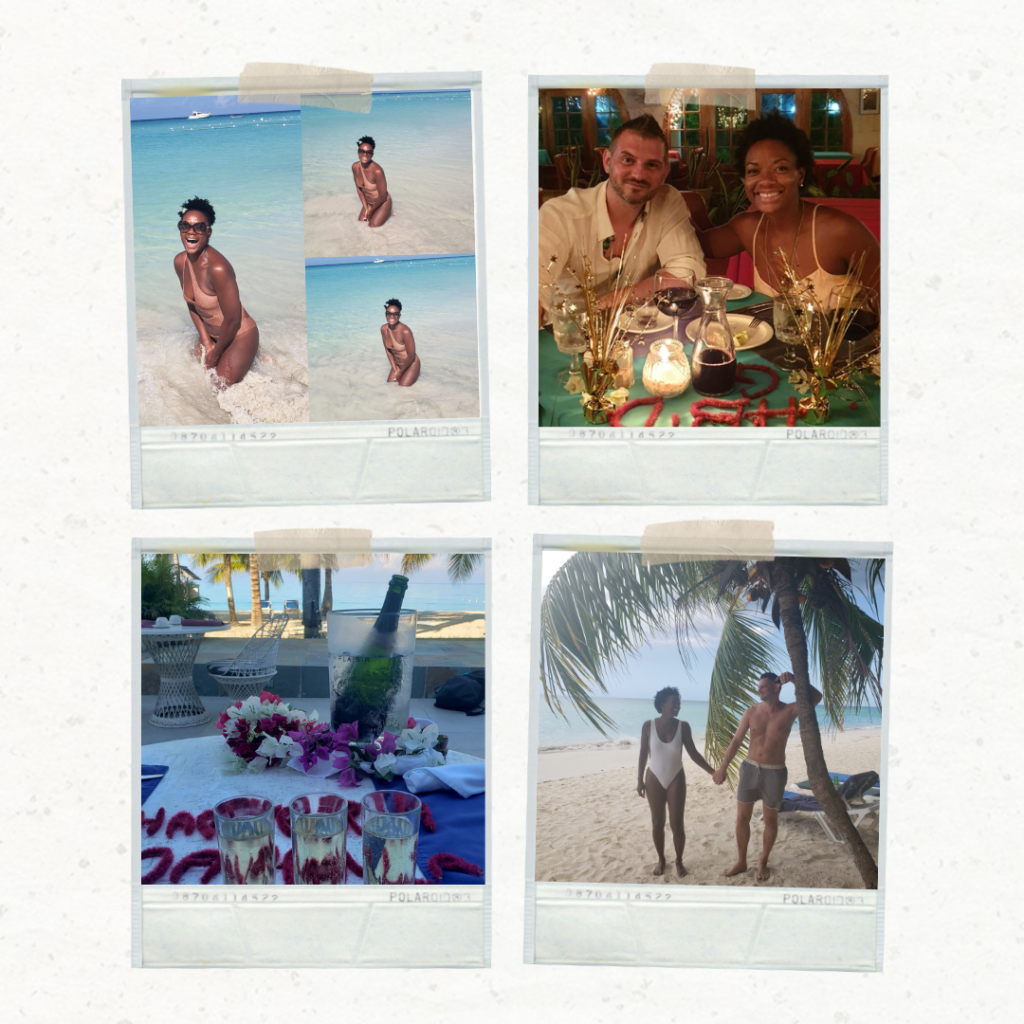 *Note: We traveled, and as a result, did not have to turn to cocaine.
Again, I have to speak to the benefits of taking calculated risks. There's nothing worse to me than living with regrets, so if there's a way to test something out while you're alive – it's excellent!
I learned so many things while doing this and so glad we did it! We met even more people like us, others who decided to do something similar – planned or forced. Even though most people at home were amazed at our decisions, we're just one of many in the community.
Forging ahead with your goals means taking calculated risks to get there. When you start taking calculated risks to live on your own terms, you start finding ways to make it all possible.