17 Surprising Things I Noticed While Traveling in Europe: A Must Read for the Novice American Traveler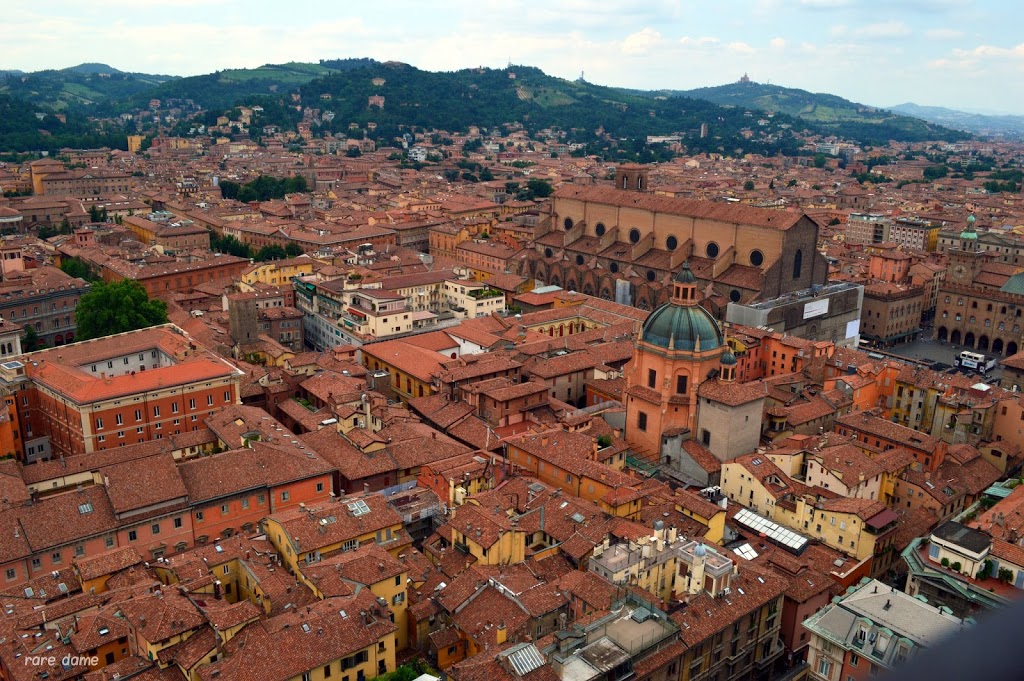 About 15 minute read or a 5 minute skim…enjoy!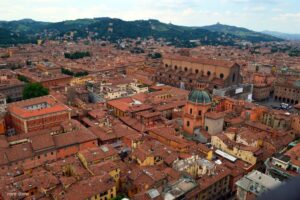 Bologna, Italy
At the beginning of my 7 week Euro-trip to Poland, Spain, and Italy, I wasn't sure of what to expect while traveling Europe. I knew what to pack, what to wear and how to say three words in Polish/Spanish/Italian combined, so I was ready in some aspects. But I didn't know how this experience would change me.
As early as the first international airport in which we landed, I immediately started noting things that were different in Europe. Some things were barely notable, while others were re-occurring and forced me to take notice. Because I knew my fellow Americans would be itching to hear my exact thoughts on this very topic, I took short notes throughout the trip so I could report my findings. Those extremely scientific notes turned into this very detailed report of what to expect while traveling in Europe and broken out into 3 subgroups – Exceptional Attitudes, Europe-Exclusive Activities and Major Epiphanies:
17 Surprising Things I Noticed While Traveling in Europe
Exceptional Attitudes
1. Quality food is meant to be enjoyed with others and is also made with pride, love and care. Someone recently asked me if the food is really that much better. My answer was an emphatic "yes" and #1 is the reason. In Europe, most restaurants the main goal is the quality of food and customer experience, not the volume of customers they could serve or how fast they can turn over tables. For example…
Dinner is a 3-4 hour experience. In Italy, we rarely went out to any bars because dinner was the main attraction…and a long one at that! Sometimes you order 4-5 courses, drink a bottle (or 2) of wine, had wonderful conversations, then enjoy the ambiance…and that was the night!
They will tell you NO. If you ask for something they don't think you should have…they'll just say no. Ordering food at a restaurant with limited access to WiFi & Google Translate means you're guessing most of the time. And if you guess wrong, they will tell you "no" then either patiently wait for you to order something else or make a better suggestion. Believe or not, this is true customer service because they want you to have the best items on the menu.
2. Nobody cares. Well, they do…but they don't. This was my answer when my good friend, Tina, asked what my favorite thing was about Europe. I'm sure she was expecting a place or an event, but it was actually a general attitude. Actually, Europeans do care, but as business owners their priorities are providing great quality food/products for their customers and then spend the rest of time enjoying life. This is reflected in their lifestyle, for example…
Siestas…and business hours in general. Places typically open at 10am, then shut down from 1pm-4pm and then re-open. There are a handful of places that are still open then entire time, but when it comes to food, be weary of them because it probably means that they're horrible. Europeans don't always care about accommodating everyone at every moment. And I think that's ok.
Low and/or no drama and stress. You know how you people watch and can just see the stress on people's faces? Or how you walk into a meeting at work and feel the tension? Or every clip on Real Housewives of Anytown? Yeah, I didn't really notice that behavior in Europe.
3. Old people don't gotta chill. A couple years after graduating college, one of my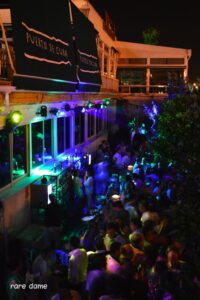 Seville, Spain: Puerto de Cuba
friends I always saw out, eventually stopped going out. When I asked why, the answer simply was, "Old people gotta chill." While living in a medium-sized city at the time, it was a fairly accurate statement – same people doing the same stuff every weekend.
This is actually the opposite in Spain and Italy. I noticed that "old people don't gotta chill." For example…
Bologna, Italy on Monday night. As G and I were heading back to our hotel to relax, drink some wine, and enjoy the view, when we noticed these 2 older couple leaving their apartment to go out on the town. And when I say older, I mean 60s or 70s. Go ahead, grandpas!
Seville, Spain on Saturday night. We were out that night like, "Where the party at?" but at all times we were surrounded by a more mature crowd. It wasn't until we found the club on the water, Puerto de Cuba, did we see younger people. And it wasn't like the more mature crowd wasn't there either. I have to say, it's the only club I've been to that had that much age diversity…ever.
Europe-Exclusive Activities
4. Euro summer jams back in the day. There were lots of late night YouTube sessions and old radio hits that reminded G of summers in Europe. I think these Euro hits mostly consisted of German groups singing all genres of music ranging from Reggae to love ballads. That's right. I said Reggae. Here are some examples of the awesome old Euro jams I listened to while over there:
"Borther Louie" by Modern Talking video has the best hair you'll ever see on men.
"Summer is Magic" by Corona video will stay in your head for awhile.
"Coco Jambo" by Mr. President video is the aforementioned German Reggae.
"Summer Jam" by The Underdog Project video is actually a good song from the 90's.
"Maria Magdalena" by Sandra video was probably considered the best special effects of the 80's.
"I Wanna Be with You" by Fun Factory video is yet another German Reggae song and one you've probably heard before!
"Somebody Dance with Me" by DJ Bobo video is a must see for all you dancers out there!
All the Depeche Mode songs – just pick one!
5. Water Closets (WCs). Even though I have a college degree, I had a hard time figuring out all the different types of WCs. To sum up my experience for future Americans traveling to Europe, a door that has WC on it can be either of the following:
a) A very small closet/bathroom with a tiny toilet and an even tinier sink. Note: the toilet may not have a seat and the sink may have a pedal that turns on the water. And there may or may not be toilet paper or soap in there.
b) A door that leads to a hallway with a sink and more doors that have WC on them.
c) A wooden outhouse/Port-o-John/Honey Bucket on the beach that only locks on the outside.
d) Or just a normal bathroom that has all the amenities I'm used to such as a toilet seat, toilet paper, soap and towels. But this is a true rarity…
6. Bring your own toilet paper and hand sanitizer. Neither luxuries are guaranteed in an public restroom. And if there is toilet paper, it's very scratchy and possibly made from unprocessed wood pulp. But nonetheless, if there was unprocessed wood pulp toilet paper in a WC I was grateful and noted that at least there is toilet paper in here.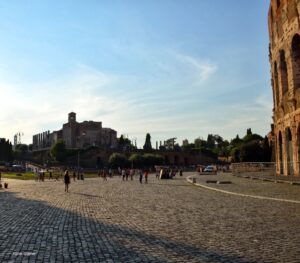 Rome, Italy: My enemy…cobblestone by the Colosseum.
7. Woman Warning: Cobblestone is a factor at night. Sometimes sightseeing and dinner were combined into one night and I would dress accordingly – a little bit of comfort but still dressy. Unfortunately, even my Miz Mooz "comfort shoes" with heels could not keep my stability in tact while seeing the sites in Rome. Colosseum – 1. Paula – 0.
8. Everyone makes their own flavored moonshine in Poland. At least in Krakow. Everyone's house we visited had a craft (or multiples) of their homemade vodka. And it wasn't that foofy creamsicle flavored vodka with 20% alcohol. It was the real deal. Actually, one of our friends was very creative with his vodka infusions. You'll have to contact me offline for specific examples 😉
9. Wedding pictures don't have to be taken on the wedding day. I saw multiple brides and grooms in every city, on everyday except for Saturday getting their pictures taken. It made me re-think the tradition we have here…(previous blog).
10. RyanAir boarding process is similar to herding cows. I'm sure any discount airline in Europe is just the same, but RyanAir is where my experience lies. It's basically a Greyhound bus in the air. You wait in line for an hour to board a plane with open-seating where ill-mannered people do things like talk loud and smoke their electronic cigarettes. And once the plane lands, clapping ensues. But hey, I can't complain – it was like $30 to fly from Rome to Poland. Tip: Be the last one to board the plane. There's an 80% chance you'll get the "upgraded" front or back seats because they overbook.
11. Umbro and Fila never left. These labels used to be popular in the U.S. in the 80's and 90's but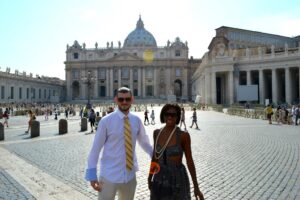 G and I in front of The Vatican
are still going strong all over Europe. And why not? Who could deny the comfort and fast-drying feature of Umbro shorts?

12. Locals assumed we were French or Italian. This was a pretty big compliment as most American tourists stick way out, and not in a good way. But while were were traveling in Spain and Italy, no one thought G and I were American. It made me feel very cosmopolitan and tres chic 😉
Major Epiphanies
13. Everyone needs to follow a passion. The first day we were in Italy, I had this realization. It seems that artistic people (musicians or artists in various forms) are more passionate about work and their life because they're doing what they love. And, in return, the quality of product they deliver is at a very high level and they're able to contribute to their community in a unique way.
Shouldn't we all be this way?
Think of how elevated our life experience can be if we are surrounded by a zealous population. Maybe you're not doing what you love at a daytime job, but you spend every other waking hour working on your craft. What's stopping most people from finding their passion and doing what they love? Since I'm always curious about this topic, there will be a future blog to come.
14. "The Secret to Life" isn't a secret. I love older, confident Italian women. It's almost like they all had a sense of well-being, happiness and class – more than any other woman I've encountered. The Secret to Life is describe in more detail HERE.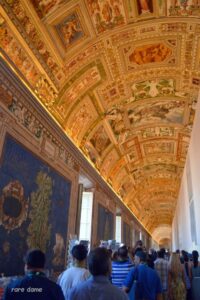 The Vatican with me and 1 million tourist.
15. The best vacation is about experience – locals, food and fun. Waiting in line is inevitable, but minimize it by going to tourist spots that you would die without seeing. And plan ahead by buying tickets online so you can skip the line. Then spend the rest of your time taking in the culture by eating and drinking with locals. I promise you'll remember this way more than multiple random tours. And for the touristy stuff you didn't see? Go on Google Images, look at the pictures and pretend you were there. More on this topic in a previous blog HERE.
16. I lost weight by the end of our vacation. It sounds crazy, but at the end of our vacation I lost weight – I hadn't been that weight since the 7th grade! And I know the primary reason was the quality of the food I was eating. Even though I mentioned food in #1, I feel it's important to mention it again. My experience with food there will change the way I eat forever. This is how European food wins:
Portion size. Most of the restaurants in Poland had dinner portions that were 1/25 the size of a normal Cheesecake Factory salad. And yes, our meal was probably cooked in pork fat (nom nom) but still an average-sized serving. In Italy, you have the option of ordering food in courses. So if you're hungry, order something from the 1st, 2nd, 3rd and 4th courses (but just as stated in #1, be prepared to stay there for 6 hours or so). And if you're not hungry, just get the 1st course. While in Spain, tapas are the way to go. Just keep on ordering these small plates until you're full. And it all countries mentioned, drink wine while you're doing it!
Unprocessed and local food. Stop trying to justify how fast food cheeseburgers or the powder in boxes that magically becomes food is really food. This is the best resource for more information 100 Days of Real Food. I not only lost weight, but my body feels great and I continue to go to farmer's markets for this reason.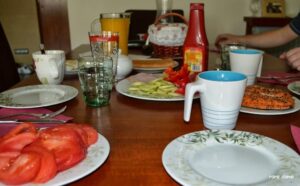 Every morning our friends made us breakfast!
Protein-packed breakfast. We started almost every day with a strong European-style breakfast: smoked salmon, hard-boiled eggs, green and red peppers, cucumbers, turkey, tomato, green onions, whole grain bread, fruit juice and hot tea. I loved it! AND it keeps you full for 3-4 hours, which is why we still continue to eat it to this very day.
17. Loneliness & sadness will arrive on extended trips. I was surprised at how many sad feelings I had around week 2 and 3 of vacation. I was homesick, completely dependent on other people to translate and to take me places, only had internet in WiFi areas, and no good Mexican food in sight. I know…horrible.
So all of that paired with my major transition in life of new city and new career and unlimited options made me feel lost and overwhelmed. I researched this extended travel reaction to see if anyone else had this experience and found that all of this is fairly common, especially when studying abroad.
However, this self-pity stopped soon after when we got to Italy. I knew those sad feelings would hinder the entire experience so I put on my big girl pants and got over it. That first night in Bologna, I was so overwhelmed with happiness because I realized I have no more regrets in life. I've always wanted to travel Europe for an extended time and I was actually doing it!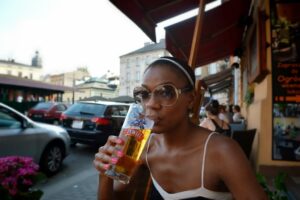 Krakow, Poland: Me in Kazimierz doing what I do best!
There you have it. Exceptional attitudes and region-specific norms invoked epiphanies in me that changed my life. As with all of my writings, I hope you take these inspirations and incorporate them into your life is some way. Just know that life is to not be taken that seriously and to be unhappy or stressed all of the time is a waste! Try something new and see where your life takes you!
Has anyone else who's traveled abroad had the same feelings? Am I missing anything?
Best,
Paula