My Fave 5 Expreiences: Florence, Italy
Here's a clue – it's all food…

Notice the family finishing dinner in back. So cute!
1. Trattoria Pandemonio – My jetsetter friend, VB, suggested we eat here and we put our trust in him. Upon arriving, we were the 1st clients to enter this family restaurant. In fact, they were just finishing their dinner! You can just tell how family-oriented this restaurant is – "Mamma" gives the entree suggestions and "Babbo" gives the wine suggestions. Even the grandson was involved…serving us champagne!

The food was phenomenal. The experience was superb.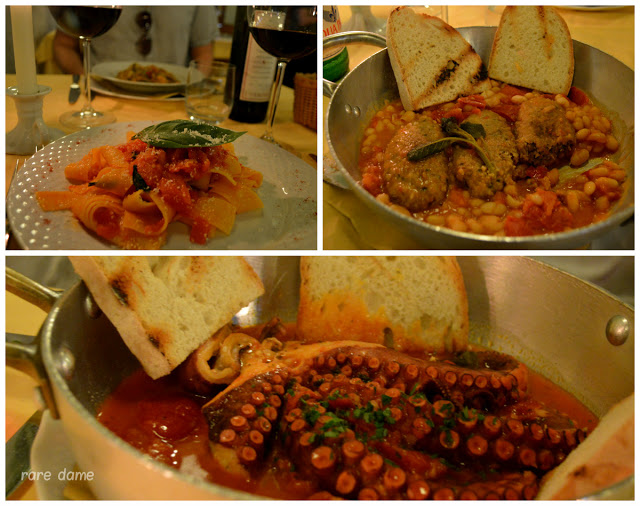 *And it stands the only place all vacation that we did NOT limit ourselves to the cash budget. Debit cards (gasp) were used. Oh yeah, that IS octopus to answer your question.
It stands out as one of our favorite memories of life. You could tell everything there was done with love (and a lot of perfection). We almost didn't want to leave. Mamma even said we could stay there as long as we want…as long as it was before 11:30pm when then close.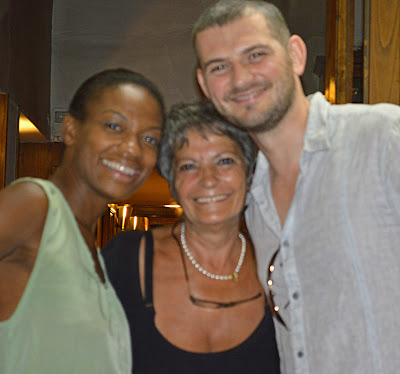 Us and Mamma. She's a no bulls*&$t kind of business woman with a kind heart.


2. Baldovino – One of my friends, Dee, actually lived in Florence for 6 months while studying abroad in college and suggested the next 2 places. I don't know exactly what she studied while here, but I know what I would study: eating food.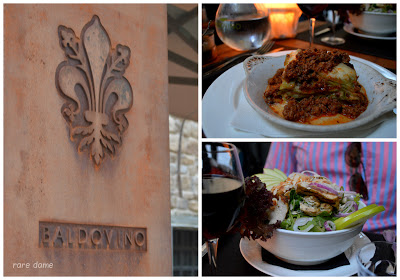 *Note: Lactaid pill was no match for this lasagna. Let's just say I lost weight the 3 days I was in Florence. Ugh.
This restaurant has a great patio right next to Basilica of Santa Croce and we had no problem waiting a bit to sit there. Once seated, we perused through the menu and G picked something on the healthier side since we'd been eating so heavy all week. I, on the other hand, went all out into full DGAF mode (a new thing kids say these days) and ordered the lasagna. Yes, I am still dairy-free, but I was praying my Lactaid pill would kick into overdrive for this one meal. YOLO (a word old to kids, but now new to adults)!
Again, we liked our waiter, Stefano, so much that we wanted to and actually did close down this restaurant just conversating. That is, until a little old man, who we believe to be the owner, came out and said, "Stefano, stop talking. We all want to go home!"

3. Acqua Al 2 – I had one of my best "overeating" experiences at this place. We ordered the steak as well as the pasta sampler. Food came out at us in lightning-fast pace and I ate accordingly.
*Me eating here is best compared to Audrey's nightmare at the beginning of the movie National Lampoon's European Vacation.http://www.youtube.com/watch?v=wX2cUZJrLEk

4. Caffe Liberta – This was close to our hotel on the outskirts of downtown. There's nothing fancy or special about this place except for good, quality food which is why we ate there everyday. And I also enjoyed the fact that we were usually the only non-Italians here. It made me feel like I lived there! Well, at least for 3 days.

5. I Fratellini – My friend since 2nd grade, Shanti, gave this suggestion as a lunch/sandwich place. The amount of pork the entire continent of Europe consumes never ceases to amaze me. And it's gooood pork. The quality of meat on our sandwiches here was unreal. AND they sold a glasses of Chianti Classico for 2euro each. Whhhhyyy not?
Honorable Mention: Leather
Florence is THE place to buy leather goods. I bought a jacket that fit me to the 'T' – it's almost like it was made just for me! And G bought an extremely soft wallet (much needed) and a great pair of shoes. And all of this was COST WAY LESS than if we were to buy the same quality anywhere else. (I'll save my rant of why quality & fit matters much more than a higher price & name brand for another post).

I'll say it again – Florence is, to me, a great "little" big city to visit!

What is your favorite about this city – the food, the shopping, or the sites?

Best,
Paula