Part I: A Week in Seville, Spain – Traveling Like a Boss (on a Budget)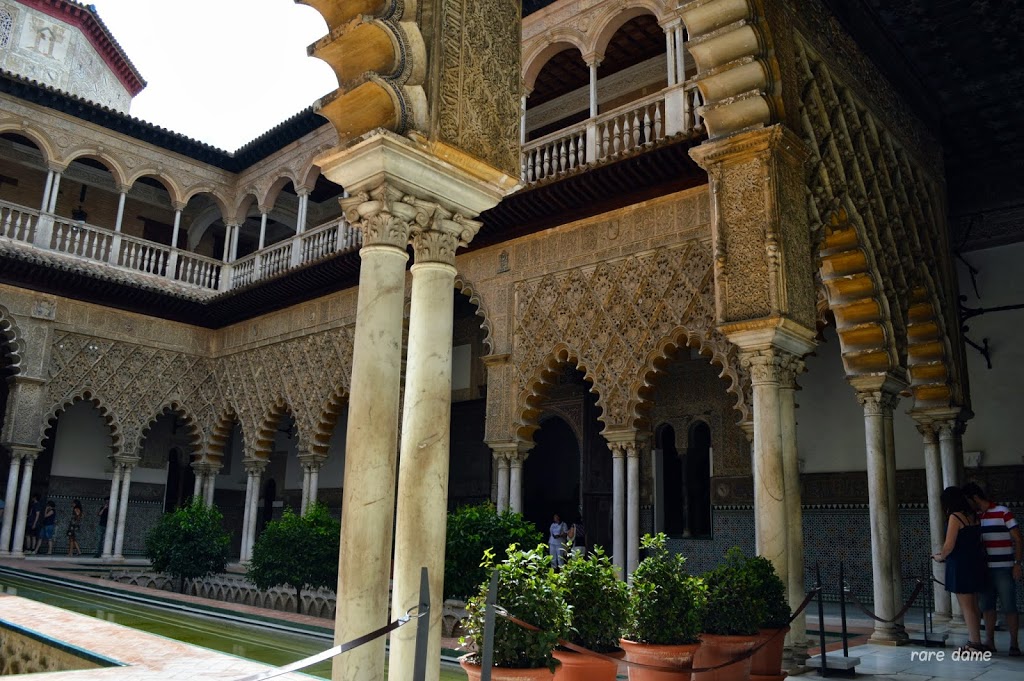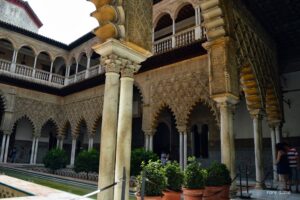 Patio de las Doncellas or Courtyard of the Maidens
Seville felt like home. It was a picture-perfect city with Moorish-themed architecture, magnificent tapas (small plates of food) and warm people. And the vibe at night was lively, to say the least.We were lucky enough to stay there for 5 nights, which gave us enough time to truly see most of what this city has to offer. Note: one side effect of staying in a city that long actually makes you believe you kind of live there.
My "Traveling Like a Boss (on a Budget)" series for Seville is broken into 4 different parts. Since we were there longer than any other city, this seemed like the best way to present it. Plus, editing the 600 pictures I took into 100 pictures, and then putting all of that into one blog post is pretty impossible. This is Part I and what I consider to be my favorite pics. I know you'll enjoy them!
Seville, Spain Part I: Royal Alcazar
Alcazar – Originally built in the 10th century as a Moorish fort, it's now a royal palace located in the heart of Seville. And because there were many hands in the pot making this better than the century before, please note it's actually a series of palaces and gardens. We literally set aside a full day to take in all of its visually glory! Read more here or here. This was my favorite place we went all summer!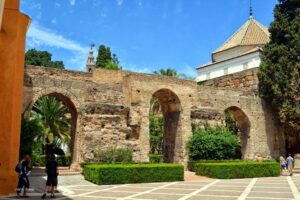 Patio de la Montería near the entrance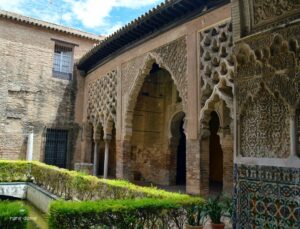 Patio del Yeso – all engravings were done via plaster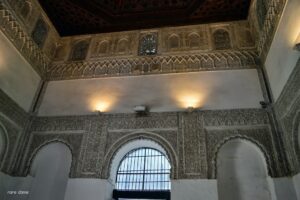 Sala de la Justicia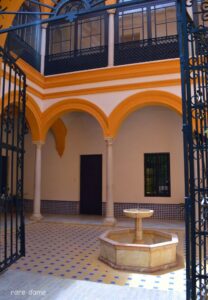 I love the color and texture of this courtyard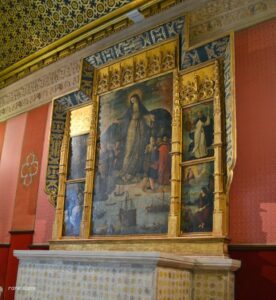 Virgen de los Mareantes alterpiece in the Chapel of the Casa de la Contratación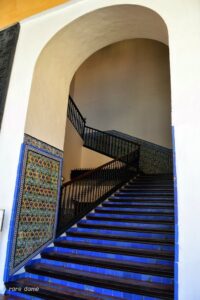 Stairs to my future home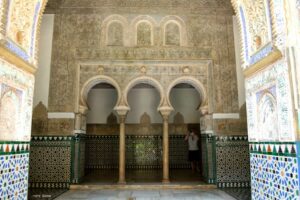 The Royal Alcove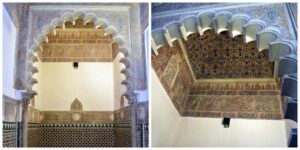 Look at all of the details! You can't buy this stuff at Pottery Barn…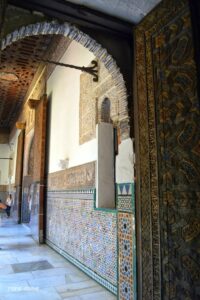 The Courtyard of the Maidens alt view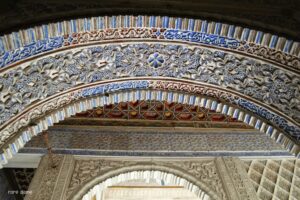 Do you know how long it'd take me to paint something like this little doorway?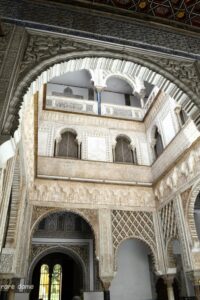 Patio de las Muñecas or Courtyard of the Dolls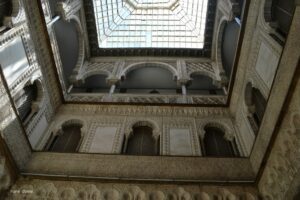 Patio de las Muñecas alt view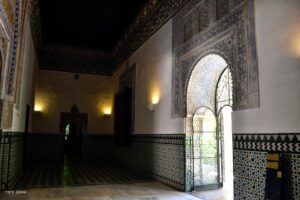 This part of the palace is pretty representative of the rest of the rooms. All have different tiling and colors and were allotted for different guests.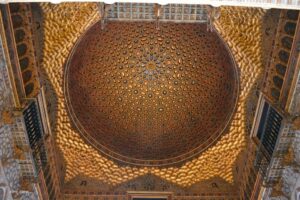 Ceiling of Salón de Embajadores or Ambassador's Hall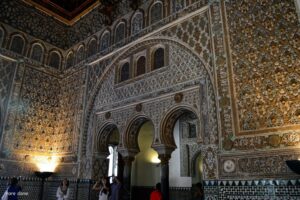 The detail in this room was unreal. We sat/stood here for about 15 minutes just taking it all in.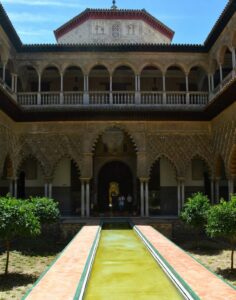 Patio de las Doncellas shown here again with a view of the 2nd floor.
Moving onto the Salas de las Fiestas (or Halls of Celebrations), this was built in the 13th century and has more Gothic architecture.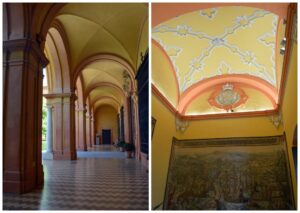 The Sala Grande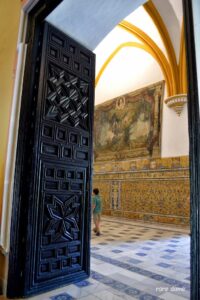 Peeking into Salas de las Fiestas
I'll say it again, the detail in this building is unreal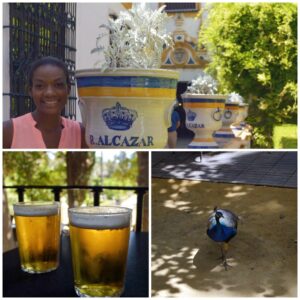 Clockwise from top: Me finished with the inside tour and ready for the outside portion; a peacock hangin at the cafe; it's beer thirty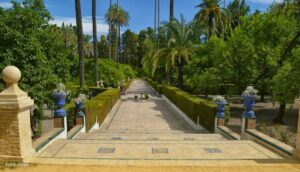 Entrance to the Jardín del Retiro del Marqués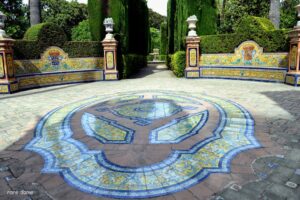 There were multiple areas like this but with different tiling and color schemes.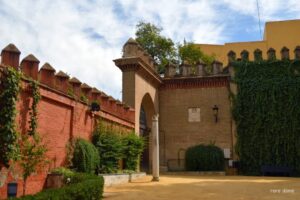 The Puerta Alcoba entrance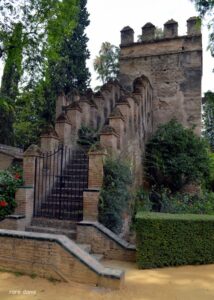 This building is a lookout for the Laberinto – a maze of tall hedges. We weren't about to go through a maze in 90 degree weather…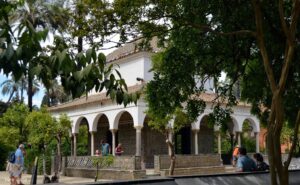 Pabellón de Carlos V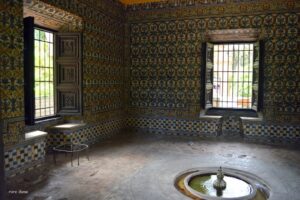 Pabellón de Carlos V: an inside view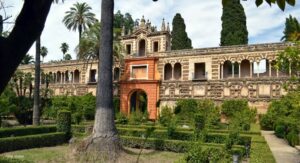 Galería del Grutesco
Jardín Inglés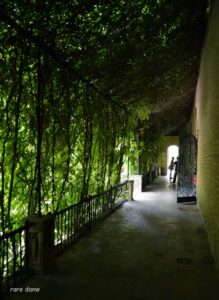 Part of the Galería del Grutesco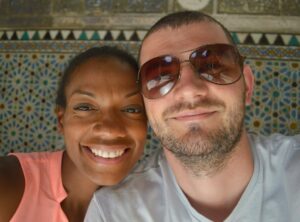 Bar Antiguedades – After Alcazar, we wandered up a nearby street looking for a quick bite to eat and found this restaurant by chance. We were pleasantly surprised by the deliciousness of these tapas!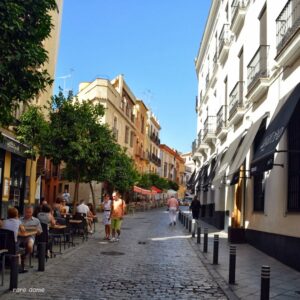 Calle Argote de Molina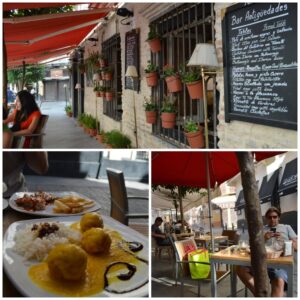 Clockwise from top: The patio and menu; the other side of the patio looking down Calle Argote de Molina; my fish balls in yellow sauce (like meatballs but with white fish)
That's my Spain trip in a nutshell. I was very impressed by the architecture in all cities that we visited and can't wait to go back!
Best.
Paula